"Petromel 1" Ltd is the only flour mill in the country whose process of flour production is fully computerized.

Situated on an area of 22 decares on the territory of Komoshitsa village, Montana district, the mill is built according to design drawings of the Swiss company "BULER" - the world biggest manufacturer of flour milling equipment with 166 years of history and production sites in three continents. "BULLER" has equipped 32 000 flour mills worldwide. The equipment bearing this prestigious trademark has the capacity to process more than 100 tons of wheat per 24-hours.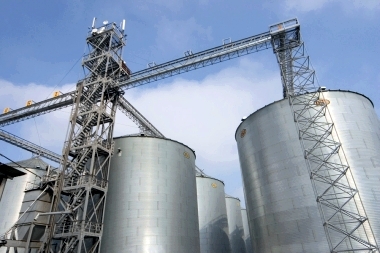 The granary has the capacity to hold and store over 7000 tons of grains.

The mill complex includes a total number of twenty silos for storing 27 000 tons of wheat and similar crops, which are equipped with active ventilation systems and a system for measuring the temperature of crops at seven different levels. The silos are lined with a special zinc-based alloy.

The quality of grain is evaluated in a specially-designed laboratory according to the following characteristics:
• percentage of wet gluten
• relaxation
• moisture
• hectolitre weight
• amylase activity.
Products

The complete production cycle in "Petromel 1" Ltd is fully computerized and is executed according to a program and controls that are preset for each production unit. The mill's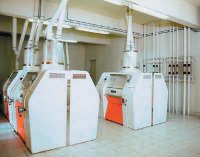 throughput is 100 tons of grain per 24 h with an uninterrupted production cycle. For a 24h period the mill processes 72 tons of flour and 23 tons of bran.
Four types of flour are included in the product list of the mill:
• type 500 (white)
• type 700 ("Dobrudzha")
• type 1150 (brown)
• type 1850 (wholegrain)
The quality of each flour batch is guaranteed by a Certificate of Quality.
Markets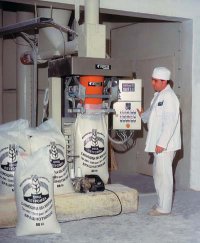 There are three warehouses for finished goods located in the towns of Lom, Montana and Komoshtitsa village; also the company has a distribution network with branches in the towns of Sofia, Pernik, Blagoevgrad, Vratsa, Kyustendil and etc.
Partners

"Prestige 96" – V.Tarnovo, "SAP" Ltd - Sofia, "SIG Invest" Ltd - Lom, "Bread making plant V.Tarnovo", ET "Neycho Grachki" - Blagoevgrad, ET "Ognyan Todorov" - Vratsa, "Vip Simerce Group" – Lom etc.
Contacts

Petromel Ltd.
3648 Komoshtitsa village
Montana District
Bulgaria

tel. +359 971 66 462, +359 887 381 715

petromel@synergon.bg

www.petromel.com