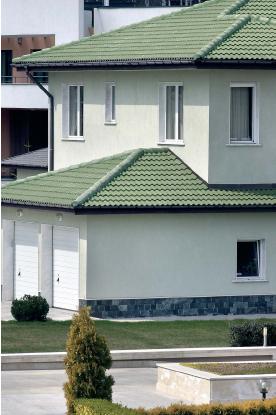 "Balkanceramic" PLC is situated in the town of Novi Iskar, 15 km away from the town of Sofia. The company was established in 1959 specializing in the manufacture of construction materials. Since 1988 the company has expanded its activity by including in its production process the production of concrete tiles and ridge-tiles.
The company's production process is based on a modern technology, widely recognised among the Scandinavian countries, Western Europe, USA and Asia.

Basic processing equipment – a fully automated production line for manufacture of concrete tiles and accessories by the Sweden manufacturer "ABECE" and an automated production line for manufacture of high quality concrete items by "AME" Austria ¬– enables the production of goods of constant quality. As a result of higher market demands, the company offers all additional components necessary for the completion of any roofing system. The market strategy of "Balkanceramic" PLC is aimed at producing high-quality goods with excellent performance characteristics, durability, warranty and aesthetical design.
Products


• concrete tiles and ridge-tiles
• additional roofing components
- tiles – snow-retaining, ventilating, front, edge and etc.
- ridge-tiles – tee, front, edge, rounded and etc.
• concrete items in different colours:
- kerbs
- pavement slabs
- UNI pavement
- blocks
- Fencing systems components.
- Single chimney with rosette and others
- Manufacture of custom designed products.

All products are compliant to the BDS (Bulgarian State Standard) and the EU Directive on construction materials. The company is certified under ISO 9001-2008.
Markets

The products of "Balkanceramic" PLC are distinguished for their high quality and competitive prices – which accounts for the high customer valuation and interest. All products are accompanied by the required test reports, certificates and quality assurance.
Partners

"Toplivo" PLC, "Primabuild" Ltd, "KeyBuild" EAD, "GBS – Infrastructure Construction" AD, "Unimex-S" Ltd, "AM Hemus" AD - Dupnitsa, "AT Engineering" AD, "Holding Roads" AD, "Roads and Equipment" AD, "Road construction equipment" AD, "Shtrabag" EAD, "Trace" AD and other.
Contacts

Balkanceramic PLC
52, Zavodsko shosse str.
Novi Iskar 1281
Bulgaria

tel. +359 700 144 07
tel. +359 88 874 7552 – trade department

office@balkanceramic.bg

www.balkanceramic.bg